If you thought you need to save a fortune to go on a vacation abroad, we are here to prove you wrong! There are several international destinations you can fly to with a limited budget. You can also cut down on your trip budget by availing the best of Goibibo offers and promo codes while booking your flights and accommodation at the destination.
So we have chosen the best of budget spots including beaches destinations, mountains destinations, cities, heritage towns and more for you to choose from. Check out these 10 international trips you can take this 2020, with just ₹50,000 in your pocket:
Top 10 International Destinations Under Rs 50000
1. Singapore
The iconic attractions, twisty local dishes and exciting events makes Singapore an ideal fun destination in South-East Asia. The progressive island is a dynamic mix of different cultures and has the essence of modern Asia with a little traditional touch.
2. Thailand
A very few countries can match up to Thailand when it comes to tourism. The land of white elephants is known for its prismatic beauty and stunning places to visit. Thailand is a kingdom of wonder with beautiful natural and historical attractions. From hot-air ballooning to wind surfing, there are endless diverse activities to add to your travel plan.
3. Malaysia
Malaysia is home to stunning beaches, scenic places and picturesque tourist destinations. The pre-historic rainforests and melting pot of cultures make Malaysia a spectacular country to discover.If you are looking to buy cheap flight tickets you can use Goibibo promo codes from CashKaro.
4. Bhutan
Bhutan is one of the neighbouring countries that can be visited without a passport. Also called the 'Land of Thunder Dragon', the country has untouched landscapes, beautiful monasteries, monumental fortresses and other natural wonders.
5. China

China boasts of a large number of amazing travel destination including historical sites and ancient relics. The splendid cultural heritage of the country with diverse customs attract visitors from all over the world. China is the third highest visited country in terms of the number of tourists who visit it every year.
6. United Arab Emirates
One of the fastest growing destinations for leisure visitors, United Arab Emirates is a charming land with towering buildings, endless white sand and turquoise seas. The country attracts millions around the world to major exhibitions and money-minting sport events like Horse Racing, Golf and Formula 1. Their jaw dropping architectural marvels are reasons good enough to visit the country. Get discounts on your accommodation in UAE using Goibibo coupons!
7. Turkey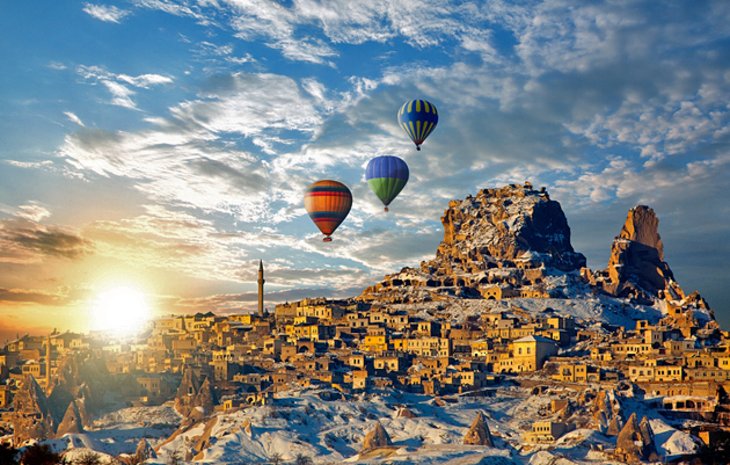 Turkey is famous for being the country which stands on two continents – Europe and Asia. The nation is bordered by four different seas and has incredible landscapes with natural wonders. Turkey is also one of the earliest settlements for various tribes who brought along with them different cultures and traditions.
8. Egypt
The ancient land of Pharaohs, Egypt is a fantastic destination that never ceases to astonish. The stunning and colossal monuments along with cool turquoise waters rejuvenate one's soul. There are very few places on Earth that have the same magic and mystery as Egypt.
9. Japan
The island nation in Pacific Ocean is known for its imperial palaces, mountainous parks and towering buildings. Japan is rich in history and interesting events. The busy country blends in wonderful architecture and cutting edge technology with ancient traditions. Looking for cheap flight tickets for Japan? Check-out Goibibo international flights offers.
10. Hong Kong
A former British colony in south-eastern China, Hong Kong is a world of skyscrapers, glittering harbours and beautiful hills. The magic of a sophisticated international city along with cultural diversity form the core of Hong Kong's attraction. There are also unspoilt natural beauty and spectacular sceneries all around.
Sounds great, doesn't it? But with our Goibibo offers, your international vacation can get even better and cheaper! If you are a new user, grab our Goibibo coupons for up to 25% off and additional CashKaro cashback!
For more Goibibo promo codes, head to CashKaro!