It's hard to say that we millennials are immune from the magic of the Hogwarts castle and its numerous stories of courage, wisdom and victory. Thanks to J K Rowling's beautiful depiction of the tales about The Boy Who Lived, we can safely say we've had a wonderful time growing up in the 90's and 00's. So when we found this awesome Harry Potter merchandise, it almost seemed like a fantasy trip down memory lane. Hence we decided to share them all with you right away!
What's more, these Harry Potter stuff are all up for grabs at Amazon! So do yourself a favour and reserve them before they're gone out of your sight!
#1 The Golden Snitch Necklace + Bracelet Set
Who can ever forget the adventure and the thrill of mind-boggling Quidditch games? The thrill of the keepers will now be yours once you team up your casual tees with this gold-tinted Snitchy bracelet and necklace in Silver and rare alloy material.
#2 The Bewitching Deathly Hallows Pendant
One of those signature symbols that our boy wizard could relate with, from the caves and the tombstones to the remorseful occurrences in Dumbledore's will. This pendant embodying a similar magnificence is all ready to become a part of your prized souvenir collection. Shop for such awesome pendants now!
#3 The Rewarding Hogwarts Badge Pendant
Remember the moments when we saw our Bravehearts on-screen wearing this badge of honour every time they won points for their house? This momentous gift is all you need to feel the Hogsmeade aura that sends chills down your spine every time you wear it!
#4 The Solemn Swearing Cover Notebook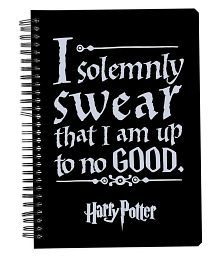 For you, the creative one, this notebook with quotes on Gryffindor has to be the perfect place. Give your thoughts a new place to rest in this Harry Potter themed writers book available in a variety of colour tones.
#5 Dumbledore's Phoenix Necklace
Every Potter fan feels Dumbledore as their idol. Harry always came to the Honorary Principal before his adventures and the signs from the Phoenix gave him the direction. If you are a Dumbledore fan yourself, you cannot let this Phoenix necklace go away from you.
#6 This Demented Half-Blood Choker Neckpiece
Another locket that will make you a true blue Harry Potter maniac is this gothic-styled metal locket. Wear it as a choker or a long hanging neckpiece over your classic tees and make heads turn wherever you go!
#6 This Not So Dark Souvenir Hoodie
This grey hoodie with graphics of all Harry Potter book names can be teamed up with any kind of denim bottoms – shorts, boyfriend jeans, distressed denim, skirts or whatever else you have and make a nerdy fashion statement wherever you go!
#7 These Hogwarts House Pens
Who are you? Are you the bravest Gryffindor housemate or the crafty Slytherin fella? Four pens for 4 houses that will reignite the spirits from the tales of Hufflepuffs, Slytherins and battles of the wizards with the Dark Forces. Gift them or keep them as a part of your precious childhood.
#8 The All in One Harry Potter Collectible Quidditch Set
This is the ultimate merchandise that has it all – 1 wooden make Quaffle with 2 Heavy Bludgers on the side, enclosing a non-removable Snitch. We're grabbing this from Amazon NOW, you better follow suit too!
Next up, is it going to be Game of Thrones Merchandise …?
👋CashKaro Exclusive Offer👋
Hungry for more Cashback 💸? Download CashKaro App to get a Rs 60 bonus Cashback + Save up to Rs 15,000/month on online shopping.