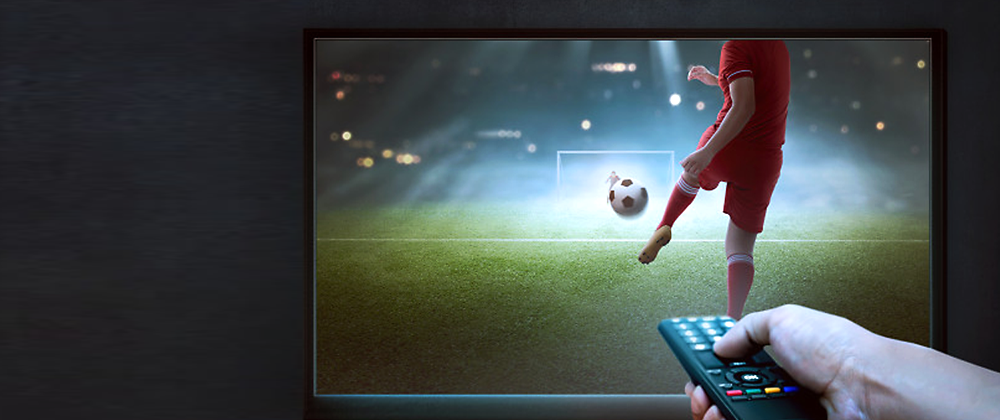 Bringing home a new television to suit your living room or bedroom is a quite tricky task. With smart evolution, TVs have become much more affordable than they used to be. Now you get to enjoy a whole lot more than regular TV channels; you can watch your favourite shows and movies online, or browse the internet, all in a single screen. A 43-inch television gives more than enough viewing area to enhance your entertainment experience. Immerse into a whole new world of visual pleasure along with crystal clear sound with a big 43-inch television for your living space.
How to Choose a TV for your Room?
Picking a TV for your living room or bedroom requires you to keep a few things in mind. Here are a few of them to help you choose a TV for yourself.
Choose a TV that is suitable for your room size. The screen size should not be too big that it hurts your eye or too small that you struggle to read the text displayed on your TV.
If you are picking a 43-inch television, you'll get plenty of options to choose from. Compare the same screen size TVs from different brands to determine which one fulfils your requirements and has a tad more features than the others.
Compare the picture quality, sound output, and resolution of different television sets available in your budget. A 43-inch TV is either available in Full HD resolution or 4K Ultra HD resolution; you can pick whichever seems to satisfy your eyes. A 4K TV would cost a bit more and offer a better picture quality than its Full HD counterpart.
Nowadays, most TVs feature High Dynamic Range (HDR) technology that offers better colour reproduction from lower blacks to higher whites, giving your eyes an exceptional visual treat. You can pick a TV with an HDR feature, and they won't cost much than the regular ones.
Today, smart TVs have become even more affordable. Most of the sets are loaded with intelligent features, offering a range of content from various OTT platforms, such as Netflix, Amazon Prime, Hotstar, ZEE5, and more. You can get these features in almost every television today. However, you would need a subscription to access these apps to watch online content on your TV.
Understand the difference between Smart TVs and Android-powered TVs. A smart TV offers a limited pool of apps and gets less frequent firmware updates, which means the system may become obsolete. An Android TV will provide you with a vast library of apps that you can download from the Play Store, and it pushes continuous firmware and app updates.
Best 43-inch TVs
1. Sony Bravia Smart LED TV
This Sony 43-inch LED TV features a rich Full HD resolution with HDR10 support so that you can enjoy a vividly detailed picture clarity with striking colours. It features multiple audio enhancement functions that can improve your movie and gaming experience. It comes loaded with an array of major OTT apps for your entertainment. The remote control has dedicated one-button access to YouTube and Netflix. This Sony Smart LED TV also supports hassle-free wireless screen mirroring to cast your mobile or laptop's screen directly on your television.
Front Surround Sound
This LED TV comes with S-Force Front Surround feature that emulates three-dimensional sound field naturally and realistically.
Top Pick
20
Key Takeaways:
43-inch Display
Full HD LED with HDR & X-Reality Pro
2 HDMI ports and 2 USB ports
20 Watts Output with ClearAudio+ Technology
Supports HDR Gaming
X-Protection against dust, humidity, and power surges
2. Vu UltraAndroid LED TV
Vu UltraAndroid LED TV features a pure prism panel that delivers high-intensity colour definition and accurate white balance for best viewing experience even in daylight. The panel ensures even brightness across all edges and corners. The remote control features dedicated buttons for licensed apps like Netflix, Amazon Prime Video, Hotstar, YouTube, and Google Play for instant access to all the engaging content available online. With the Android Pie 9.0 OS, you get access to the entire Google ecosystem like Play Store, Google Games, Google Movies, and more. The PC and Gaming Mode on this Vu LED TV offers calibrated refresh rate and resolution for best gaming experience and computer mode. Enjoy amplified and immersive surround sound experience with DTS Studio Sound.
Dolby Audio Decoder
This LED TV comes with Dolby multi-stream decoder as a single package solution to decode all universal audio content worldwide.
Most Trusted
20
Key Takeaways:
43-inch Display
A+ Grade LED Panel
2 HDMI and 2 USB ports
24 Watts Output with Dolby Audio and DTS Studio Sound
Android Pie 9.0 with Chromecast Built-in
1GB of RAM, 8GB of storage
3. LG Full HD LED Smart TV
This LG 43-inch LED Smart TV features a full HD screen with dynamic colour enhancer and Active HDR to deliver rich and delicate details so you can enjoy the beauty of nature's true colours on your TV screen. With DTS Virtual:X, you will enjoy rich, flawless, and multi-dimensional audio as the built-in speakers on your TV deliver sound from all angles. This LG Smart LED TV allows you to multi-task so you can watch TV and surf the internet simultaneously without any hassle. Enjoy your favourite TV shows and movies on Netflix, Disney+ Hotstar, Amazon Prime Video, and many more with WebOS on your LG Smart TV.
Remote Connection
This LED TV allows you to access connected smart devices remotely from one big screen, using the intuitive Home Dashboard.
Next Best
20
Key Takeaways:
43-inch Display
Full HD LED with Active HDR
2 HDMI ports and 1 USB port
20 Watts Output with DTS Virtual:X
WebOS Smart TV
AI Launcher
4. Mi TV 4A PRO Android LED TV
Mi TV 4A Pro is equipped with a Full HD display that lets you enjoy multimedia content, movies, and TV shows in stunning quality. It features PatchWall 3.0 that comes with content from all the OTT apps right in your home page. With 20+ content partners, including Netflix, Amazon Prime Video, YouTube, Disney+Hotstar, Zee5, and more, Mi TV 4A Pro allows you to access your favourite content in one click. This TV runs on the latest Android TV 9.0 with Google Assistant and Chromecast built-in. It features powerful 20W speakers with DTS-HD sound that deliver stunning audio that fills your room with clear dialogues from your favourite TV series and movies.
Smart Android TV
This LED TV features cinematic quality sound, multiple ports, leading performance, and delivers 700,000 hours of content on PatchWall.
Affordable Option
20
Key Takeaways:
43-inch Display
Full HD LED with Vivid Picture Engine
3 HDMI and 3 USB ports
20 Watts Output with DTS-HD Sound
Android TV 9.0 with Data Saver
1GB of RAM, 8GB of internal storage
5. TCL 43-inch AI 4K UHD Smart LED TV
This TCL 43-inch 4K LED TV features an AI Picture Engine that intelligently recognizes each scene content to dynamically improve the brightness, contrast, and saturation of the picture, presenting you more details, realistic and vivid viewing experience. Enjoy a more authentic listening experience with its AI Sound Engine that compensates the audio quality based on the volume and improves the distortion of signals and speakers. Operating with the Android Pie 9.0, this TCL Smart TV offers a new world of movies, shows, and games from Google Play, YouTube, and other apps with over 950,000+ hours of content.
AI Interconnection
This AI TV connects with other smart home devices such as lights, curtains, sweeping robots, and more, so you can easily control them to enjoy a more relaxed living experience.
Popular Choice
20
Key Takeaways:
43-inch Display
4K Ultra HD LED with HDR10, Micro Dimming
2 HDMI ports and 1 USB port
20 Watts Output
Android 9.0
2GB of RAM, 16GB of Storage
6. Kodak 4K Ultra HD Android TV
This LED television features a 4K Ultra HD display with incredible colour contrast and up to 500 nits of brightness levels. The LED panel provides an immersive visual experience by applying different contrast levels to the widescreen, delivering an outstanding image depth. It comes with a sleek, slim, and ergonomically designed remote with dedicated hotkeys to access Prime Video, YouTube, Sony LIV, and Google Assistant. The TV set is equipped with multiple connectivity options, including Wi-Fi, Bluetooth, USB, and HDMI.
Superior Gaming
This 4K Android TV is powered by an Amlogic chipset that delivers in-depth and mesmerizing gaming visuals.
Value for Money
20
Key Takeaways:
43-inch Display
4K Ultra HD LED with HDR
3 HDMI ports and 2 USB ports
24 Watts Output
Android TV 9.0
2GB of RAM, 8GB of Storage
7. Onida Full HD Smart LED TV
This smart LED TV features a Full HD display, edged with thin bezels for an elegant look. Equipped with a Lucent Picture Engine, it offers life-like picture quality, rich contrast, and brilliant colours. It is infused with Dolby Audio and DTS TruSurround features to give you a multi-dimensional sound from all angles offering an immersive movie-like sound experience. The television runs on Fire TV OS and offers an intuitive dashboard, screen mirroring, television browsing, and access to Amazon Alexa at the tap of a button.
Smart Home Automation
With this TV's remote, you can control your smart home devices and access Alexa to turn on/off the smart lights around you.
Runner-Up
20
Key Takeaways:
43-inch Display
Full HD LED with Lucent Picture Engine
3 HDMI ports and 1 USB port
16 Watts Output with Dolby Digital Plus
Built-in Fire TV OS
1GB of RAM, 8GB of Storage
8. Sanyo Full HD Android LED TV
Available with a Full HD resolution, this slim television takes up less space and is thus perfect for smaller rooms. This LED TV offers the right blend of vivid colours and crisp details to provide the best visual experience. Equipped with superior audio speakers, it delivers an immersive sound output to enhance your movie-watching experience. The speakers are tuned with Dolby Audio and Digital Sound Processing for clearer, louder audio delivery, and superior acoustics. The TV runs on Android OS and comes with an ergonomic remote with dedicated hotkeys for Netflix, Play Store, YouTube, ZEE5, and Google Assistant.
Audio Link Technology
This Full HD Android TV allows you to play your favourite music on your TV's powerful speakers via Bluetooth even while the screen is switched off.
Also Consider
20
Key Takeaways:
43-inch Display
Full HD LED with Micro Dimming Technology
3 HDMI ports and 2 USB ports
20 Watts Output with Dolby Audio
Android TV 9.0
1.5GB of RAM, 8GB of Storage