Dry skin and the problems associated with it are quite common these days. There can be many reasons for it like using harsh chemical products, exposure to sun, lack of nutrients, etc. The most noticeable features of dry skin are almost invisible pores, rough and irritated skin, dull complexion and visible lines. Gratefully, there are multiple ways to counter these and ensuring that you have moist and smooth skin.
Read this story to find out which soap you should use to fight dry skin. Of the many soaps available, here is a list of 10 best soaps in India for dry skin.
10 Best Soaps In India For Dry Skin
1.

VLCC Shea Butter Moisturising Soap
VLCC brings revolutionary skin care products and this soap proves to be the best soap for dry skin. It consists of shea butter and glycerine. Both these ingredients are known to heal dry skin effectively. This soap gently cleanses the skin and leaves the skin moisturised. The best part about the soap is that its fragrance keeps you fresh throughout the day.
2.

Fiama Di Wills Mild Dew Gel Bar
This soap for dry skin comes with a revolutionary Liquid Crystal Freezing Technology that heals dryness. It contains essential elements like Vitamin E and Vitamin C that nourish your skin to give it a soft and smooth feel. Powered by a fruity fragrance, it will keep you rejuvenated throughout the day.
3. Himalaya Herbals Nourishing Cream & Honey Soap
Himalaya is one of the most trusted brands for skin care products in India. Just like its other products, this soap is highly effective in nourishing and hydrating your skin.  The combination of honey and milk cream makes it the best soap for dry and itchy skin.
4. Nivea Creme Soft Soap
Nivea Crème Soft Soap comes in a nourishing blend of provitamins and oils making it a really good soap for dry skin. Made from the new Hydra IQ 24h + moisture technology, it deeply cares for your skin and makes it even softer. Its gentle foam, unique Nivea fragrance and creamy texture are some other features which make it the most widely used soap.
5. Khadi Sandalwood Soap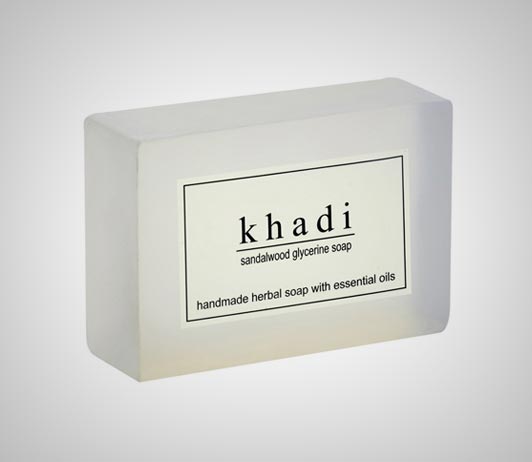 Khadi is a well-known brand, acclaimed for its quality products. The Khadi Sandalwood soap is made of Sandal oil, glycerin and vegetable oils which makes it the best soap for dry sensitive skin. Not only does it heal dryness and reduces signs of ageing, but it also removes tan and acne. Its unique ingredients keep your skin hydrated and fresh while de-stressing your body, mind and soul. 
6. Dove Beauty Bathing Bar
The moisturising cream formula of Dove beauty bathing bar makes it the most popular soap for dry skin in India. Be sure to say 'hi' to fresh and radiating skin with Dove. Dove soap for dry skin gently cleanses your body, leaving it soft and nourished. Dove also brings a baby soap for dry skin which can be used by both you and your baby alike.
7. Cetaphil Cleansing and Moisturising Syndet Bar
Medically approved, Cetaphil Syndet Bar is highly effective on dry skin. Its high conditioning property leaves your skin moisturised and maintains its pH balance. Enriched with Shea butter, this soap is a non-alkaline gentle cleanser perfect for everyday use. It also protects your skin against environmental elements giving your skin optimum care.
8. Kama Ayurveda Heal Revitalising Soap
The ayurvedic elements of this soap go deep down your skin and nourish the pores.  Claimed to be the best soap for dry skin in summer, this transparent moisturising soap adds to your skin's health. Made from pure vegetable oils and herbal extracts, the emollient nature of the soap soothes and nourishes your skin.
9. Lotus Herbals Honeymoist Ultra Moisturising Cleanser
Its 100% Ayurvedic ingredients make it an extremely effective soap for dry skin. Enriched with aloe vera, honey, rose water and methi extracts, this soap has multiple benefits on your skin. Other than leaving your skin squeaky clean, it acts as a skin toner and refines skin's pores. Aloe vera and other ingredients bring in their anti-inflammatory and soothing properties to moisturise and heal your skin. 
10. Pears Pure and Gentle Soap
Pears soap for dry skin is known for its transparent texture and amazing fragrance. This mild and pure glycerin bar is highly effective in averting dry skin problems. Its hypoallergenic and non-comedogenic properties, conditioning agents and mild cleansers keep your skin young, glowing and moisturised.