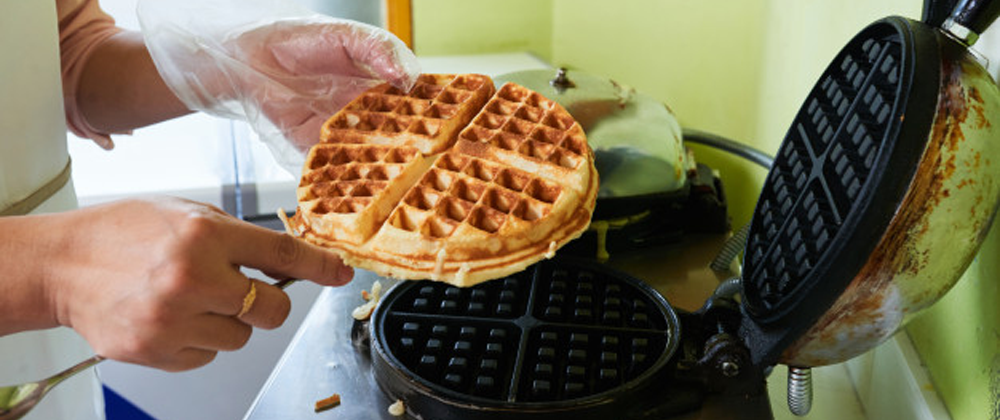 Your breakfast will never be the same after you try these waffle makers. Trust us, they're life changing.
Everyone loves waffles, but their preparation requires the right equipment. But having an electric waffle maker can make it easy for you to make waffles in no time. You can enjoy freshly baked waffles from the comfort of your home and won't need to step out to soothe your sweet cravings. To treat your taste buds with homemade waffles, consider these picks that'll help you make quick and easy waffles.
Best Waffle Makers
1. Oster Waffle Maker
Prepare tasty and healthy Belgian waffles at home with the Oster CKSTWF2000 Waffle Maker. It features non-stick coated plates and an elegant cool-touch body that fits perfectly in your modern kitchen. Just pour the batter on the plates, switch on the waffle maker, and wait for the indicator to tell you when it is done.
Adjustable Temperature
This waffle maker lets you adjust the temperature to let you make waffles just how you like them.
Editor's Choice
20
2. CuisineArt Waffle Maker
Cuisinart Round Classic Waffle Maker helps you make tasty waffles without any hassles. It features large non-stick waffle plates that let you cook four quarters at a time and comes in a stainless-steel finish. This waffle maker consumes 120-Volts power to heat the elements faster. It features adjustable temperature control with five settings that deliver even heat to the plates to cook perfectly brown waffles, without overheating them.
Safe to Use
This waffle maker is BPA-free, making it safe to use.
Popular Choice
20
3. Bella Waffle Maker
Bella Belgian Waffle Maker features a unique rotating function that provides adequate heat to the plates to bake healthy and tasty waffles. It has an adjustable thermostat with up to nine browning settings that help in effective and even baking of the waffles. The non-stick grid plates ensure effortless release and easy clean-up, without sticking or scraping. This waffle maker features a drip tray that protects countertops from the messy batter and makes for easy cleaning.
Cool-Touch Handle
This waffle maker has a cool-touch handle to help avoid burns and for ease of use.
Most Trusted Choice
20
4. Presto Waffle Maker
This waffle maker features a 120-Volt heating element for evenly cooked waffles with zero hassles. It comes in a unique shape that enables you to make waffles in the shape of a bowl. You can get super creative with this waffle maker and use these bowls as holders for exciting toppings and ice creams.
Easy to Use
This waffle maker has a LED power indicator to tell you when the waffle bowl is ready.
Next Best
20
5. iBell Waffle Maker
The iBELL SM301 750-Watt waffle maker is made with proper insulation to protect you from accidental electric shocks and burns. It is a compact and convenient design with automatic thermostat control and an easy-grip handle that makes it easy to move around the kitchen. The lock-in feature allows even heating for making crispy and delicious waffles.
Non-stick
This waffle maker has non-stick panels to ensure no sticking.
Runner Up
20