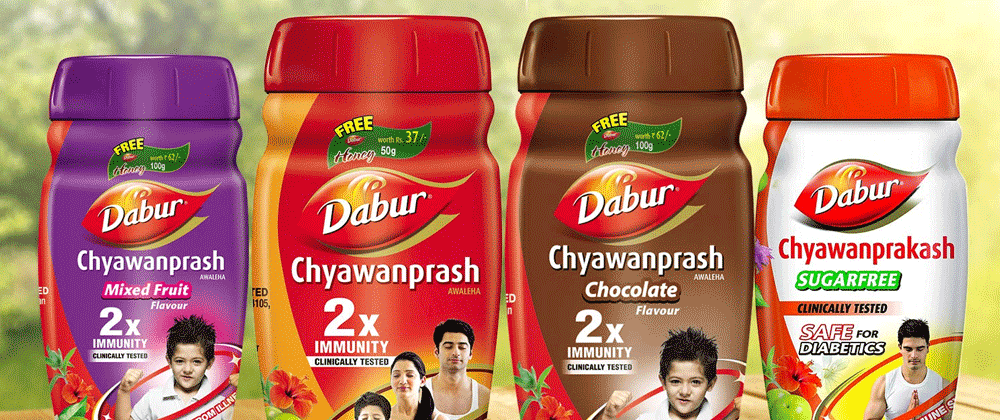 Chyawanprash is an ancient formulation that protects the human body from numerous ailments. Essentially a mixture of potent herbs, sugar, ghee, honey, amla, and other spices, Chyawanprash is full minerals and vitamins that build immunity and fight diseases. This herbal jam is a rich source of Vitamin C and has numerous health and medicinal benefits for boosting overall health. With various brands of Chyawanprash available in the market, finding the best one may become a hassle. So, we present to you a list of top 5 Chyawanprash that you can try.
5 Best Chyawanprash
1. Dabur Chyawanprash
Dabur Chyawanprash is an Ayurvedic formulation of 41 essential herbs that help in boosting your immune system. Its power pact ingredients protect the body against cough and cold caused by harmful bacteria and viruses. Loaded with Vitamin C, antioxidants and other beneficial vitamins and minerals, it prevents your body from catching infections. It is one of the best health supplements that can be consumed by people of all age groups, including kids, adults, and elderly.
Best Taste
It is made from Amla, Brahmi, Pippali, Gokshura, Bilya and other essential ingredients that offer a strong yet sweet taste.
Editor's Pick
20
2. Zandu Chyavanprashad
A concoction made with amla, shilajit, ashwagandha and other nutritional herbs, this Chyawanprash protects you against seasonal flu and diseases. It helps in building resistance against common ailments like cold, fever, cough, and weakness while increasing immunity. This product is also beneficial for people who are facing symptoms of stomach disorders, including indigestion and gastroenteritis. It is however, recommended to check with your doctor before adding it as a dietary supplement.
Stronger Immunity
This product is sugar-free and can be consumed by diabetic patients as well. Apart from building immunity, it can also be used to strengthen bones.
Popular Pick
20
3. Baidyanath Chyawanprash
If you are looking for a power-packed product that provides you with high immunity, extra energy, and a sharper mind, then Baidyanath Chyawanprash must be your pick. It is made from the original ancient formula that protects you against flu and other diseases. This product is packed with Vitamin C and 52 essential herbs that provides numerous medicinal properties to fight against diseases.
Provides Energy
This product is an excellent choice for families who have growing kids. It can be also be consumed by adults and the elderly.
Value for Money
20
4. Cureveda Pureprash
Get healthier with the purely herbal Cureveda Pureprash that is prepared traditionally with amla and 29 essential botanical herbs. This Chyawanprash is free of parabens and artificial sweetness as it is naturally sweetened using jaggery. Consuming this product is beneficial to improve immunity, fight seasonal flu and general health issues. It also aids the digestive system and eliminates toxic elements from the body.
No Artificial Sweeteners
This product is low in calories and sugar; hence it can be consumed by diabetic patients after consultation from their doctors.
Premium Choice
20
5. Sri Sri Tattva Chyawanprash
If you are looking for the purest form of Chyawanprash, then Sri Sri Tattva must be your go-to brand. It is made with 40 essential herbs and minerals that are beneficial in building immunity and increasing metabolism. It is prepared using the age-old formula used by ancient rishis to strengthen sense organs and enhance memory.
Ancient Formula
This product rejuvenates health, restores vitality, and energy levels; hence it is an excellent pick for people feeling lethargic and low on energy.
Most Loved
20
By now you know that Chyawanprash has a lot of benefits. 1 teaspoon daily can either be consumed with milk or directly by anyone over 3 years of age. If you are suffering from any ailment or are pregnant, it is recommended to check with your doctor before buying a Chyawanprash.