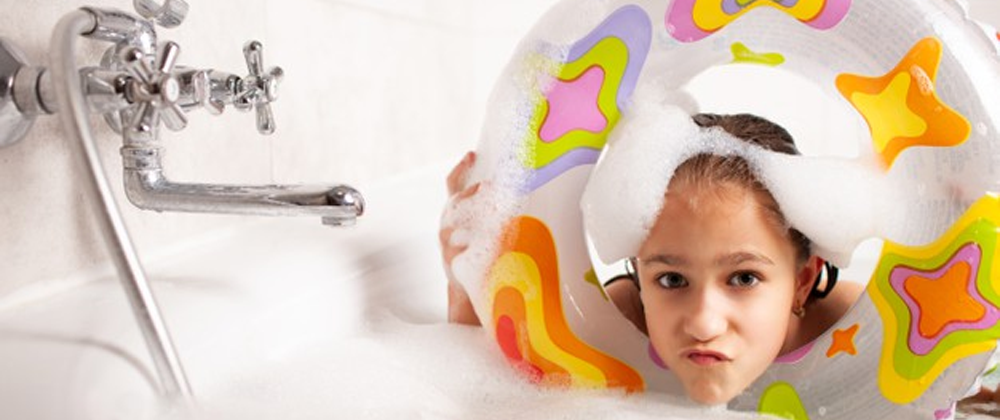 Most kids enjoy their time in the water. One easy way to let them enjoy a fun bathing session is to get them an inflated pool. Suitable to accommodate a minimum of two kids at a time, these bathtubs are perfect for a sunny day pool party or an extended bath time. The inflatable pools are easy to store and carry when deflated. Take a look at these colourful bathtubs before bringning one home.
Inflatable and Foldable Bathtubs
1. Cho-Cho Tub
This inflatable bathtub is spacious enough to accommodate newborns as well as kids of up to 4 years of age. It is made with premium quality PVC rubber material and is safe for kids. It comes equipped with a slip-resistant floor, a comfortable headrest as well as a safety balloon. The side pocket is quite handy to keep a shampoo bottle or baby wash. You also get a free pump with this inflatable bathtub.
Recliner Support
This bathtub features a backrest that supports the baby while sitting and offers a comfortable position to enjoy the bath.
Editor's Choice
20
2. Baybee Dive Baby Inflatable Bathtub
Ideal for babies and kids of up to 3 years, this inflatable bathtub allows them to lean inside the space for a wholesome bathing experience. It is made with premium quality, BPA-free material that is safe for the baby's skin. Equipped with a bath chair, it can be carried around anywhere post inflation.
Flush Drain
This inflatable bathtub also features a flush drain that makes its cleaning simpler and faster.
Next Best
20
3. Intex Easy Set Pool
This inflatable bathtub can capacitate more than 2000 litres of water. Its 30 cm high boundary provides enough support and protection to keep young children safe. It is made with durable vinyl and has a heavy-duty liner that prevents it from getting pierced. This inflatable pool is suitable for kids aged 3+ years and adults too.
Family Fun
This inflatable bathtub cum pool is perfect for families of 4 as it can easily accommodate a maximum of 2 adults and 2 kids, together.
Popular Choice
20
4. Intex Sunset Glow Baby Pool
This multicoloured round inflatable bathtub features three coloured rings that offer it a beautiful look on the outside. It can hold up to 136 litres of water and can be quickly deflated for convenient storage. It is made with durable polyvinyl material and features a soft floor that ensures extra safety for your kids.
Good Capacity
This comfortable inflatable bathtub can capacitate up to 3 kids of 3+ years at a time.
Best Pick
20
5. Arushi Bathtub
Made with durable rubber material, this square inflatable tub has a wall height of 81 cm, helping the kid sit upright without losing balance. It also features a quick drain plug and a soft cushiony floor that offers maximum comfort to the kid while bathing. It is spacious enough to accommodate one child.
Vibrant Colours
This inflatable bathtub is available in two pretty colours, green and pink, that babies love.
Runner-Up
20