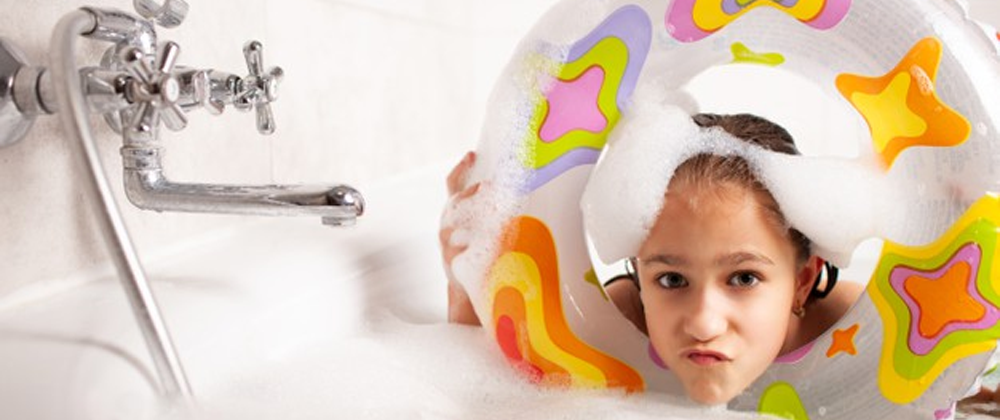 Most kids love water and just hate coming out of the bathtub. They'd actually go crazy on a beach or a pool but sadly city homes and schedules leave these kids with little choice. One easy way to let them have a water party is to get them an inflated pool. Suitable to accommodate a minimum of two kids at a time, these are perfect for a sunny day pool party or just some extended bath time. The inflatable pools are easy to store and carry when deflated. Inflating them again is a 5-minutes job, that's totally worth the effort. Look at these colourful bathtub options to see which one your kid/s would love.
Inflatable Bath Tubs
1. Intex Round
This multicolored round inflatable bath tub features three rings that offer it a beautiful look on the outside. The tub can hold up to 18 gallons of water and can be quickly deflated for convenient storage. Suitable for kids of 1 – 3 years, it also features a soft floor and repair patch for punctures, holes and tears.
Good Capacity
This inflatable bath tub can capacitate up to 2 kids of up to 3 years at a time.
Best Pick
20
2. Intext Rectangular
This inflatable bath tub can capacitate up to 27 gallons of water. Featuring an 81 cm high boundary wall, it provides enough support and protection to hold young children. Made with durable vinyl, this inflatable pool comes with a repair patch for any kinds of punctures or tears.
Soft Bed
The bed of this inflatable bath tub feels soft to the baby but is thick enough to keep them comfortable even on uneven surfaces.
Popular Choice
20
3. Munchkin Safety Duck
The duck shaped bath tub is ideal for 6 to 24 months old babies, who are learning to sit or stand. It lends them enough support to sit and stand without anybody's help and the bright colours keep them engaged. It features a textured and padded non-slip surface, and a contoured headrest to offer additional comfort to the baby. It comes with a suction cup that lets you hang the tub easily for quick drying.
Safety Disc
This duck-shaped bath tub comes with a White Hot indicator that tells you when the temperature of the water is okay or not okay to bathe.
Next Best
20
4. Cho-Cho Tub
This inflatable bath tub is spacious enough to accommodate newborns as well as kids of up to 4 years. It is made with premium quality PVC rubber material, and is safe for kids. It comes equipped with a slip-resistant floor, a comfortable headrest as well as a safety balloon. The side pocket is quite handy to keep a shampoo bottle or baby wash. You also get a free pump with this inflatable bath tub.
Recliner Support
This bath tub features a backrest that supports the baby while sitting and offers a comfortable position to enjoy the bath.
Also Consider
20
5. Arushi Bath Tub
Made with durable rubber material, this square inflatable tub has a wall height of 81 cm, which helps the kid sit upright without any disbalancing. The tub also features a quick drain plug and a soft cushiony floor that offers maximum comfort to the kid while bathing. It is spacious for one child but not suitable for more than one.
Vibrant Colours
This inflatable bath tub is available in two pretty colors, green and pink, that babies absolutely love.
Runner-Up
20